Welcome to Advisory!
******************************
Homework:
ASAP: Turn in ALL sheets that need to get signed.
******************************
Big Idea:
Relationships provide support
Essential Question:
How will our community work toward success?
Objectives: I can...
...describe my goals at LEC.
...illustrate the contributions I'll make to LEC.
...communicate professionally in a variety of situations.
...
*******************************
Tuesday, 10 August
Engagement and Collaboration
1)
Warm Up: Snowball Goals
Write your goal for your time at LEC on a slip of paper.
Crumple your paper.
Throw papers.
Grab a new one.
Guess whose you have now!
2)
Paddling Toward Success at LEC
Overview the College/Career Readiness Rubric
While you read, reflect: What are you already good at from LEC's mission statement?
After you read, determine: What will you contribute? How will you stay engaged in all classes?

On your paddle, write what you will contribute to the LEC community as you work toward your success.
List the skills you will take from each class as a border around the paddle.
Then, illustrate and make your paddle colorful.
Write your name on the paddle's handle.
Cut the paddle out.
Staple your paddle to the bulletin board.
4) Exit Ticket: Attach your cover index card to your Advisory Guide.
******************************
Wednesday, 11 August
Collaboration and Professionalism
*With Ms. Delmaine's Class*
1)
Time for You: Make sure you've completed the following:
Written your contribution to LEC in your paddle (basketball at lunch to tire out my hyper classmates, awesome Socratic seminar contributions, ideas for our Formal, helping with math questions)
Listed skills you will take from LEC bordering your paddle
Cut out your paddle and add it to the bulletin board
Illustrated the cover of your Advisory Guide
Assembled your Advisory Guide
Turned in ALL paperwork (if not, set an alarm to remind you to do that!)
2)
Professionalism at LEC
Review the College/Career Readiness Rubric.
At LEC, your job is to learn everything you need to learn to get into college classes at CCCC and to get into the college and career of your dreams. Our mission is for you to earn a high school diploma and associate's degree. We want you to conquer all your doubts that you can't make it. This is your job! What can you do to act like a professional now?
Add a sticky note for how you will act professionally at LEC to the College/Career Readiness Rubric.
******************************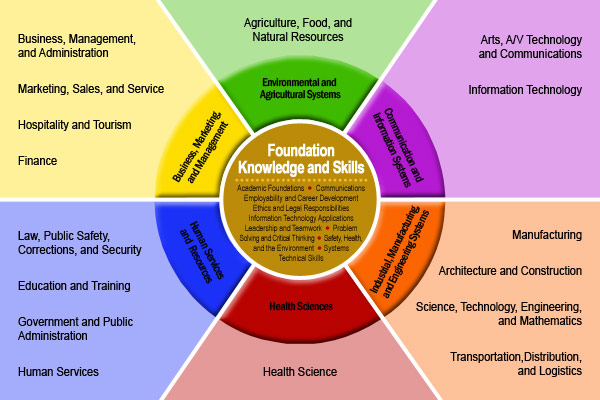 1)
Warm Up: Content Connections
Add on to the board!
Relate the content area classes you are taking to Career Clusters.
2)
Professional Scenarios
Stand-Share-Sit: Go through the "Taking a Different Tone"

(adapted from AVID "Strategies for Success")

.

Popcorn to select readers.
Convey the message on the right side of your slip using ONLY the word and tone of voice on the left.
Then, read us what the other side said.
Sit down once you've read your line.

Stand Up-Hand Up-Pair Up.
Shake hands with your partner.
Read your scenario and decide how to react professionally.
Model to the class.
******************************